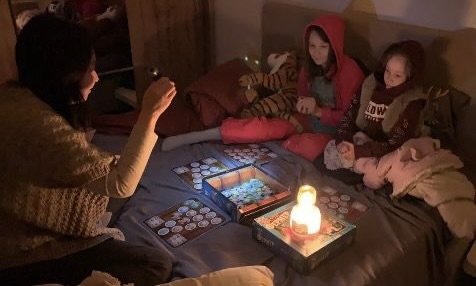 What Ukrainians do on Cold, Dark Nights
---
Kyiv After Dark
I asked some of my friends in Kyiv to take photos of how they spend their evenings in their homes without power or heat. Here are a few.
I didn't direct them. I didn't tell them to take happy photos, but everyone looks happy. Nobody I know in Ukraine is saying "We don't have any electricity! Call the Russians and tell them to stop!"
Quite the opposite. The bombing of civilian infrastructure is just making people more determined. To them, freedom is the most important thing.
That being said, power, heat and internet is pretty important as well. If anyone remembers school during COVID, it is much the same in Ukraine. Kids without internet don't get educated.
The good news is that you are helping these folks and hundreds of others, because your donations are paying for generators, power banks and Starlinks to come to Ukraine.
Please help keep Ukrainians in high spirits and their kids in school. Donate today to bring power back to Ukraine. The Ukraine Freedom Project is importing generators and power banks - and we can do more with your help.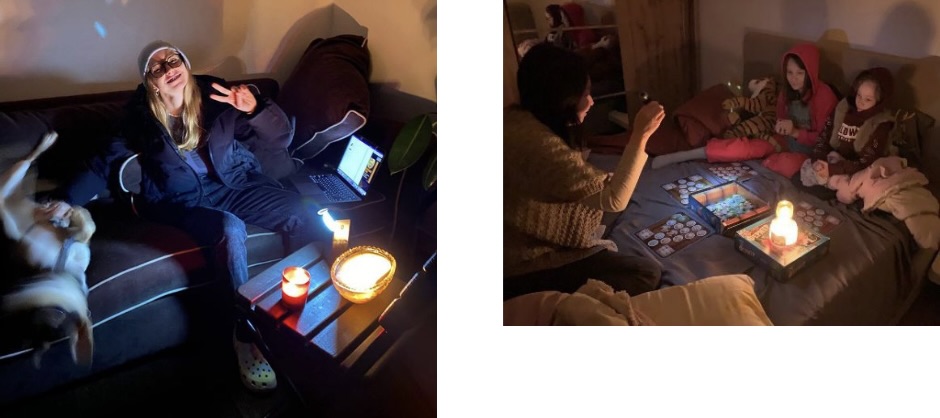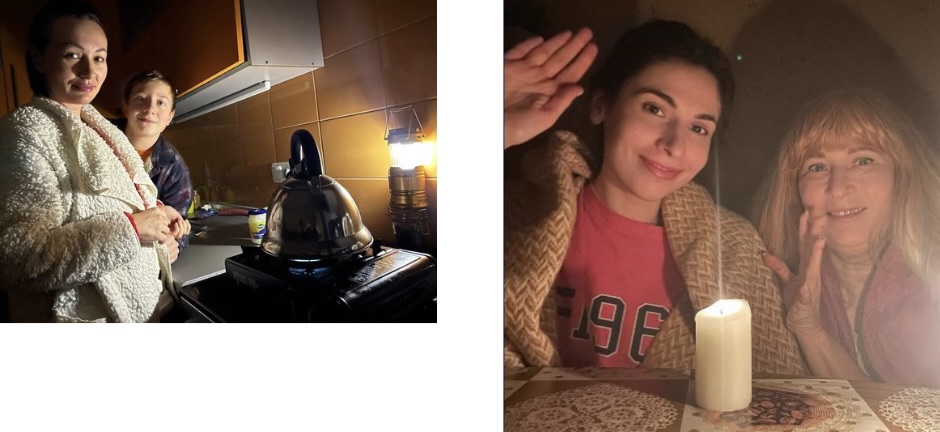 Clockwise from top left:
Julia is the founder of

Numo,

a startup with an app for people with ADHD. Her company has already earned one round of VC funding and last month received significant funding from Google. Yulia is fighting to keep her company alive during the war, and doing a great job. Kay, the dog next to her, belongs to her co-founder who is in Germany collecting warm clothes for the Ukrainian military, as well as a Starlink and a generator for their team.

Misha (11) and Sasha (8) are playing "Fun Farmer" with their mom Sonya. Photo credit by their father Tolik, who some of you may have received letters from. Fun Farmer is a game created in Poland in WWII for similar circumstances. Sonya and the kids spent the first several months of the war in Sweden, but came back this summer because the family being together in Ukraine is more important than any risk of Putin's missiles.

Elena, another name you might recognize from notes in your email, and her mother Victoria seem to be having a good time. The ladies are already refugees from Donetsk in 2014 after the Russians invaded. They restarted their life in Kyiv. Elena works for the

Ukraine Freedom Project

while Victoria is a brand manager at a Ukrainian food company.

Olga is making after dinner tea on a gas fueled camp stove in her apartment as her son Klim looks on with Roman manning the camera. Olga has fed me many times. She is a great cook. Klim just turned 13 and is a great athlete and scholar. I first met him in 2018 when I lived in Ukraine, and he could not speak English. Now he sometimes translates for his mom… who is also learning English!
Public opinion research bears out what my friends are showing us in their photos above. A poll in Ukraine released this week shows that 85% of Ukrainians believe victory in war with Russia requires liberating all territories, including those taken in 2014 like Crimea and Donbas. An additional five percent of Ukrainians want to march on to Moscow.
Ninety-six percent of Ukrainians are willing to endure financial difficulties for three to five years should it result in Ukraine becoming a member of the EU.
These numbers are going up from previous polls taken.
What you should take away from this is that freedom is important in Ukraine. Western values are important in Ukraine.
Let's help keep them fed and warm long enough to be a member of the EU. Please donate to help the Ukraine Freedom Project bring power banks, generators and Starlinks to Ukrainians.
Back to Blog